Mortgage-World.com is an online mortgage company that specializes in FHA loans with bad credit.
For a quicker response, call 201-403-8673.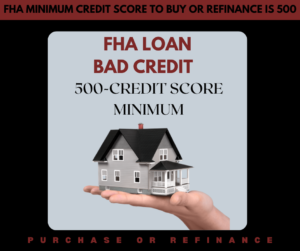 Refinance With Bad Credit
Are you unable to achieve your financial goals due to poor credit? Do you fear falling behind on payments and worsening your credit score? If yes, then refinancing might be the solution you need. Refinancing, also known as "refi", is an effective financial strategy with several benefits. Refinancing your mortgage can:
Offer a lower interest rate
Lower your monthly payment
Get rid of mortgage insurance
Refinancing your mortgage offers many benefits and is a great option to consider. However, if you have bad credit, you may wonder if refinancing is still a possibility. In this guide, we will explore the best options for refinancing your mortgage and how to prepare your credit for it. So let's dive in and get started!
What Is a Mortgage Refinance?
A mortgage refinance is a financial strategy that allows you to replace your existing home loan with a new loan that offers more favorable terms. Refinancing gives you the opportunity to secure a new interest rate, adjust the loan balance or even change the duration of the loan.
Functionally, refinancing involves paying off your original mortgage with the funds from the new loan and making payments on your new loan based on its terms.
Can You Refinance Your Mortgage with Bad Credit?
If you have bad credit, you might think that refinancing your mortgage is not possible. However, there are still options available to you. Many lenders offer refinancing programs tailored to borrowers with less-than-perfect credit.
It's important to note that the availability and terms of these programs may vary among lenders. Therefore, it's crucial to explore several options and compare them before making a final decision on refinancing your mortgage.
How to Refinance Your Mortgage With Bad Credit and Late Payments
There are still viable options available for refinancing your mortgage, even if you have bad credit or have made late payments. In this article, we will explore practical strategies to help you navigate the process and save thousands of dollars over time.
1. Find a Non-Occupying Co-Client or Co-Signer
If you have ever needed a co-signer to secure an apartment, then you can easily understand the concept of a co-client. Essentially, a co-client is a person who does not live in your home, but agrees to fulfill the terms of your mortgage if you fail to do so.
It's important to note that using a co-client is most effective when their credit score is significantly higher than yours. If theirs is only slightly better, it may not convince a lender. Remember, lenders want their money back, so they need to have confidence in your co-client's ability to make payments if you can't.
2. Use a Streamlined Mortgage Refinancing Option
Are you looking to optimize your mortgage? Depending on the type of mortgage you have, you may have the opportunity to make the most of your investment through 'streamline' refinance options. Streamline refinancing is a smart choice for homeowners looking to save time and effort, as it requires significantly less documentation compared to traditional mortgage refinancing methods. In this comprehensive guide, we will explore the various streamline refinancing options available, making your financial goals more achievable. Let's delve into the following categories:
FHA Streamline Refinance
The Federal Housing Administration (FHA) offers a specialized streamline refinance program designed for homeowners with existing FHA mortgages. This type of refinance is a fantastic choice if you want to reduce your interest rate without a lot of paperwork. The key features of FHA streamline refinance include minimal credit checks and income verification, making it a hassle-free option for eligible homeowners.
VA Streamline Refinance (IRRRL)
If you are a U.S. military veteran or an active-duty service member, the VA Interest Rate Reduction Refinance Loan (IRRRL) can be your golden ticket to significant mortgage savings. This streamline refinance program is renowned for its ease and efficiency. With minimal documentation requirements, it simplifies the refinancing process, helping you lower your monthly payments and interest rates.
HARP Refinance
The Home Affordable Refinance Program (HARP) is a government-backed initiative aimed at assisting homeowners with Fannie Mae or Freddie Mac mortgages. HARP provides a streamlined approach to refinancing, helping homeowners who may be underwater on their mortgages or have limited equity in their homes. The program's primary goal is to make refinancing accessible and affordable for a wider range of homeowners.
USDA Streamline Refinance
For homeowners with a USDA loan, USDA streamline refinancing offers an opportunity to reduce interest rates and monthly payments with minimal paperwork. This option is particularly valuable for those residing in rural or agricultural areas. It simplifies the refinancing process and makes it accessible to a broader group of homeowners.
Conventional Streamline Refinance
Even if you have a conventional mortgage, you can still benefit from streamline refinancing. Many lenders offer their version of a simplified refinance option, allowing you to lower your interest rates and monthly payments without the usual documentation headaches. These programs often cater to well-qualified borrowers.
Streamline Refinance Eligibility
Before you embark on a streamline refinance journey, it's crucial to understand the eligibility criteria. While these programs generally require less paperwork, specific requirements and qualifications may vary.
Three Tips to Improve Your Credit Score Before Refinancing
1. Review and Correct Credit Report Errors
The first step in enhancing your credit score is to obtain a copy of your credit report. You can request a free annual credit report from each of the three major credit bureaus: Equifax, Experian, and TransUnion. Once you have your reports in hand, carefully review them for any inaccuracies or errors. Common mistakes include:
Incorrect personal information.
Accounts that don't belong to you.
Outdated negative information.
If you find any errors, dispute them with the credit bureau responsible. Correcting these inaccuracies can lead to an immediate boost in your credit score.
2. Reduce Outstanding Debt
Your credit utilization ratio, which is the amount of credit you're currently using compared to your total available credit, has a significant impact on your credit score. Lowering this ratio can help improve your credit score. To do this, consider the following strategies:
Pay down credit card balances: Reducing your credit card balances, especially on high-interest cards, can have a positive effect on your credit utilization ratio.
Avoid closing old accounts: The length of your credit history is a factor in your credit score. Closing old accounts can shorten your credit history and potentially reduce your score.
Consider a balance transfer: If possible, transfer high-interest credit card debt to a card with a lower interest rate. This can help you pay down your debt faster and improve your credit score.
3. Pay Your Bills on Time
Consistently paying your bills on time is one of the most critical factors in determining your credit score. Late payments can have a significant negative impact, so it's crucial to make on-time payments for all of your accounts, not just credit cards. Set up reminders or automatic payments to ensure you never miss a due date.
Should You Refinance With Bad Credit?
Refinancing with bad credit can be a challenging endeavor, but it's not impossible. Whether or not you should refinance with bad credit depends on your specific financial situation and goals.
Your decision should be based on your specific financial circumstances, your ability to secure a lower interest rate, and the potential benefits of refinancing.
Frequently Asked Questions (FAQ) About Refinancing With Bad Credit
Can you refinance with a 500 credit score?
Yes, as long as your new loan to value ratio is 80% or lower, you can qualify for a cash out refinance as well.
Can you get denied for a refinance?
Each lender will need to review your income documents, credit, debt and property value to determine your financial situation. If there have been any 30 day late payments on the mortgage in the last 12 months, you may not qualify for a refinance.
How long does the refinance process take?
Usually it takes about 3-4 weeks to complete the refinance process.
Is refinancing a mortgage difficult?
Refinancing your mortgage may be able to lower your payments, saving you money over time.
If you've been denied or turned down for  refinance with bad credit, you may still have options.
See if you qualify and get started today! APPLY NOW